Pierre Henry's House of Sounds
Photo book with accompanying audio CD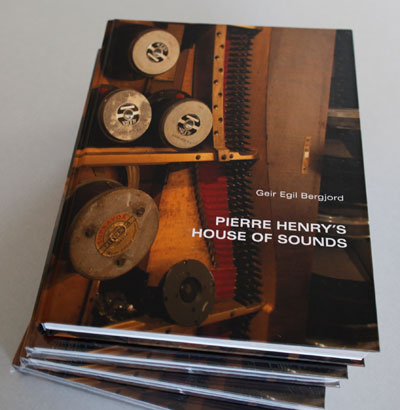 Size: 21x28 cm. Hardcover: 224 pages
Publisher: Gilka.no
Printer: Gunnarshaug Trykkeri, Stavanger, Norway
Printing: September 2010
ISBN: 978-82-92829-02-8, English edition
(ISBN: 978-2-84975-213-5, French edition, Fage édition)


I met French composer and founder of Musique Concrète, Pierre Henry, for the first time during a performance in Stavanger (Norway) in September 2006. Four years later, after numerous travels back and forth between Stavanger and Paris, my joint project with Henry was launched. The book, a seemingly endless flow of photos, moving room by room, from macro close-ups to overviews, is like a visit in the house, accompanied by a CD containing previously unreleased pieces by Pierre Henry: Capriccio, Phrases de Quatuor, Miroirs de Temps and Envol.

The book also includes a selection of texts by:
– Pierre Henry, Variations for a house, and some sighs
– François Weyergans, Pierre Henry, my friend
– Maurice Fleuret, Who is Pierre Henry?
– Yves Bigot, Pierre Henry seen by…
– Tommy Olsson, What's within a building?
– Geir Egil Bergjord, Shooting from a distance
– Tor Åge Bringsværd, Geir Egil Bergjord – biography
– Isabelle Warnier, The house of sounds – A sketch of it's history and functioning

To see a full PDF of the book, please visit: http://issuu.com/gilka/docs/houseofsounds

Some copies are still available. Drop me a line if you are interested in buying the book: geiregil(a)bergjord.com



________________________________________________
The project has received support from Arts Council Norway, Ville de Paris, Norwegian Professional Photographers' Fund, City of Stavanger, Sacem, Rogaland County Council, Ministère des Affaires Etrangères et Européennes, Universal Music France, Centre Culturel français d'Oslo and the Royal Norwegian Embassy, Paris.